According to the National Association of Realtors®, even with low-inventory prevailing across the nation, December's existing-home sales rebounded and in fact rose above an annual trend of 5 million sales for the sixth time in seven months. Median home prices for 2014 climbed to their loftiest level since 2007, however total sales dropped 3.1 percent from 2013. Total existing-home sales (which regards completed transactions for single-family homes, townhomes, condominiums and co-ops) grew 2.4 percent to a seasonally adjusted annual rate of 5.04 million in December from a downwardly-revised 4.92 million in November. Looking at one year ago, December's sales were 3.5 percent higher and now sit above year-over-year levels for a third consecutive month.
Looking at the whole of 2014, the market saw 4.93 million sales, a 3.1 percent decline from 2013 (5.09 million). Nationally, the median existing-home price was $208,500, the largest since 2007 ($219,000) and a 5.8 percent increase over 2013 ($197,100).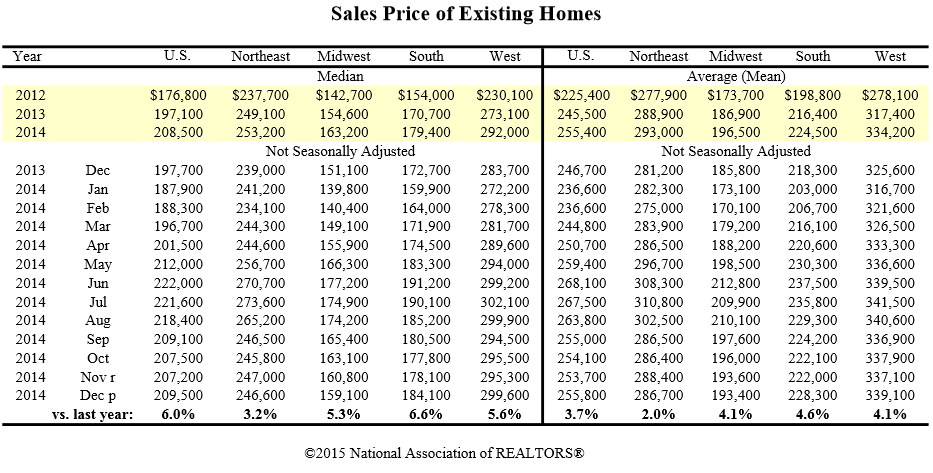 NAR's chief economist, Lawrence Yun, noted that sales grew in December 2014, a year which had gotten off to a slow start but offered positive signs of activity during the latter half of the year. According to Yun, "home sales improved over the summer once inventory increased, prices moderated and economic growth accelerated." NAR's economist also indicated that "sales were measurably better in the second half – up 8 percent compared to the first six months of the year."
Total housing inventory at the end of 2014 fell 11.1 percent to 1.85 million existing homes available for sale. This would be a 4.4-month supply at the current sales rate– down from 5.1 months in November. Unsold inventory now sits at 0.5 percent lower than a year ago (1.86 million). December's median existing-home price for all housing types was $209,500, a 6.0 percent gain over December 2013. This is the 34th consecutive month of year-over-year price gains.
First-time home buyers represented 29 percent of sales in December, down from 31 percent in November but higher than occurred in 2013 (27 percent). Taking 2014 as a whole, first time home buyers represented an average of 29 percent for a second year in a row.